How can EMT help you?
If you have an enquiry please enter your details below or contact us.
Energy Metering Technology Ltd
> Consultancy
"

ECC have over 25 years of practical project experience of managing energy cost and carbon reduction programmes.
Energy Control Consultants Ltd. was incorporated in 1987 to provide consultancy, research and project management to all types of non-domestic energy consumer, enabling them to achieve financial savings and reduced environmental impact. Initially the work consisted of detailed energy audits to identify opportunities for saving, then developing and managing the implementation of opportunities that had earlier been identified. Projects delivered include building modelling, Combined Heat and Power (CHP) systems, new more energy-efficient boiler plant, lighting upgrades and building energy management systems (BEMS).
From 1991 ECC developed its own automatic monitoring and targeting (aM&T) system DATABIRD (hardware) and DYNAMAT (complimenting software) to enable consumers to continuously monitor and manage their own energy consumption, and formed a separate division Energy Metering Technology (EMT) to deliver these aM&T solutions. EMT were the pathfinders for aM&T in the UK, and developed the DATABIRD aM&T system which is widely used on major commercial and public sector sites.
In 2008 ECC became a subsidiary of Energy Metering Technology Ltd and acts as the consultancy division of the company.
ECC's Energy Consultants
Our most experienced consultant is Colin Boughton-Smith he has over 25 years experience of energy surveys and auditing work, and was registered under the Carbon Trust's Action Energy scheme from 2001 to 2007.
"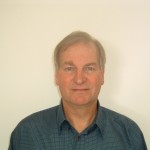 Colin Boughton-Smith is Managing Director, he established ECC in 1982.

Colin has been a practising energy consultant for many years, both in the UK .
Originally a marine engineer cadet, then, after graduating at Liverpool, a nuclear R&D engineer – fluid flow/heat transfer. After the commissioning of the AGR reactors (circa 1975), he changed his career path to energy conservation and was a practising energy consultant for many years, both in the UK and overseas before founding Energy Metering Technology in 1993 to pioneer his belief that advances in metering and IT would offer consumers a new way to manage energy and water.
ECC's Consultancy Method
ECC have developed a unique, tried and tested method of conducting energy auditing and carbon saving programmes for any size of site. This is based around two software tools that were initially developed as consultancy time saving tools for in house use before being offered to a wider market:-
ENAUD – a mathematical model of all energy flows within a building and its energy-using equipment,
DYNAMATplus – the market leading monitoring and targeting software package designed to work with both manual and automatic meter reading data, analysing and reporting on all energy flows.
Together these tools provide a method of managing all aspects of an energy and carbon reduction programme, including targeting buildings or areas for detailed attention, evaluating specific measures, driving behavioural change, and proving the savings after a measure has been installed.

ECC offers consultancy for energy management, carbon reduction and renewables feasibility, as well as general consultancy on any building services related matters. ECC always suggest the use of an aM&T System to measure and manage Energy Efficiency projects and programmes. Please see "ECC's Design of an Energy Saving Programme.
Our Energy Consultants evaluate existing building stock, develop metering strategies and monitor usage to identify areas in which energy consumption can be reduced and where financial savings be made. We can also assist in setting up split metering systems, to apportion energy consumption.
ECC are able to work on an ad-hoc project basis advising on feasibility and payback for projects such as energy efficient lighting, voltage optimisation, boiler replacement etc.
ECC's consultants guide organisations through the mechanisms of compliance with the CRC and can also formulate a customised strategy for reducing the CO2 emissions of existing building stock.
A carbon reduction strategy could incorporate the following:
•CRC report
•Energy audit/survey
•CO2 emissions forecasting
•CO2 benchmarking
•Life cycle costing
•CRC consulting
•Condition survey
ECC have experience of accessing a range of public and private sector sources of finance to fund energy saving projects. We will be ready for the Green Deal when it is rolled out to non-domestic buildings later this year.